Landscape lighting is an excellent way to highlight a garden, yard, building, pathway, or other outdoor features. Uplighting, pathway lighting, and spotlighting are three popular options. These techniques are best for drawing attention to specific aspects of the property to enhance its overall appearance.
With more than 25 years of experience, at Linnemann Lawn Care & Landscaping, we offer the highest quality residential and commercial landscape lighting services in the Columbia, IL area. We include various lighting methods in our landscape lighting designs.
---
Uplighting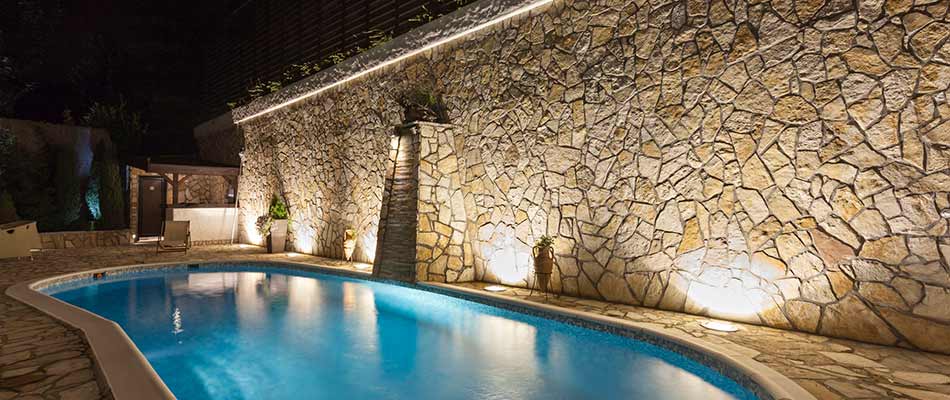 This landscape lighting technique uses spotlights or in-ground lights to create a focal point. Instead of shining the light directly on something, the spotlights are lower to the ground and face up.
Uplighting works best for tall landscape features like trees, statuary, and architectural columns. By angling the light upwards, you can show off the structure's interesting features while creating interesting shadows in the background. This technique effectively highlights textures and designs while creating a welcoming atmosphere.
For gardens, spotlights work well for uplighting as their posts are several inches above the ground. It's best to use spotlights in natural areas off pathways so that their posts don't become a tripping hazard.
Well lights, or in-ground lights, are effective for uplighting trees, architecture, and other landscape features. They are not ideal for showcasing flower beds because plants can grow over the fixture and block its light.
---
Pathway Lighting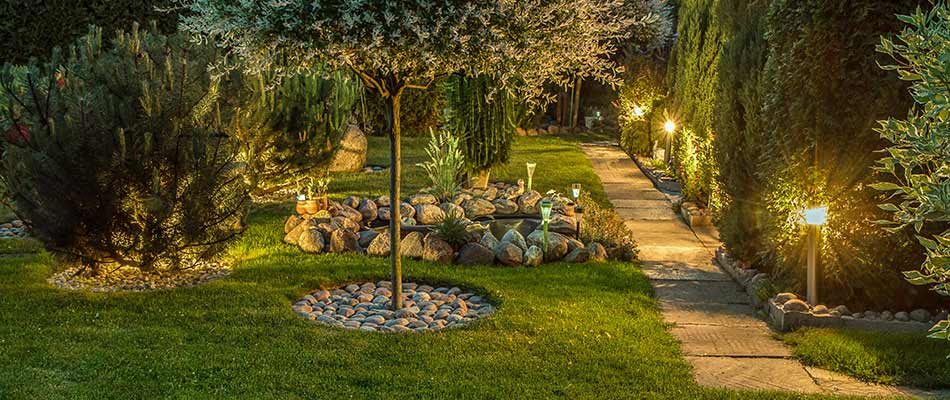 Path lighting offers more than aesthetic advantages. It also makes walkways safer to navigate at night. These lighting fixtures are usually short and shine a light directly on the ground.
Traditional path lights are posts with a top hat and light bulb. The covering over the bulb reduces glare so that only the light is visible, not the illumination source. Path lights are incredibly versatile and vary in shape, size, and style. Our team can help you find and install fixtures that perfectly complement your landscape and building design.
You have other options for path lighting as well:
Downlighting: With downlighting, the light source is positioned higher off the ground. We mount these lights high on trees or building soffits so that they shine down on the path.
Recessed Lighting: If a walkway has steps or an elevation, we can install recessed tread lights on the vertical face of each step to shine down on the horizontal surface. Recessed tread lights provide safety and create a pleasant ambiance.
---
Spotlighting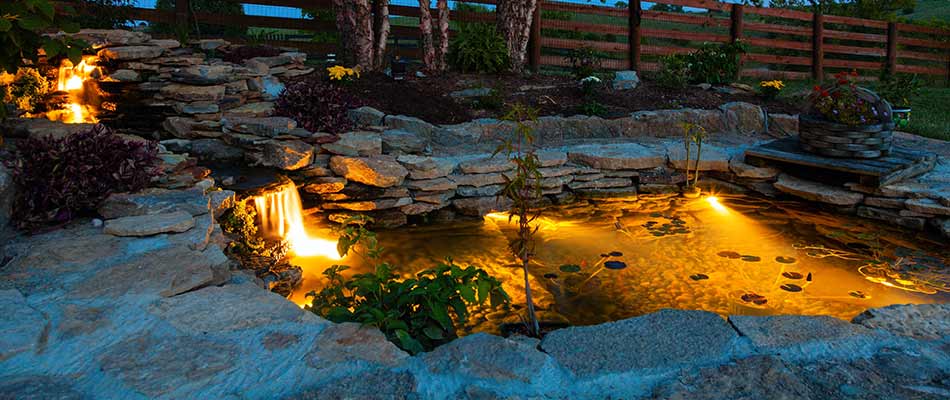 Spotlights for landscapes are not unlike the ones you see at a theater performance. The purpose of the lights is to draw attention to something or emphasis its appearance, similar to uplighting but from various angles.
Spotlights create a concentrated beam of light with a 45-degree spread. We can arrange the spotlights to flood a specific area, landscape feature, or architectural detail with light while leaving other areas dark or darker.
People often confuse landscape spotlights with floodlights. However, floodlights produce a wider light beam of around 120-degrees. The latter option is better for illuminating a larger area for safety and security purposes, like a driveway.
Our team can strategically place spotlights to shine on:
Building walls and support columns
Patios and decks
Flagpoles and statues
Trees
Water features, including ponds and waterfalls
---
Get a Quote for Landscape Lighting in Columbia Today
Improve your home or business's exterior with professional landscape lighting from our team at Linnemann Lawn Care & Landscaping. Serving Columbia, Waterloo, and Millstadt, among other areas of Southern Illinois, we provide exceptional landscaping services to over a thousand satisfied customers each year. To schedule a consultation with our landscape lighting experts, call (618) 939-4769.