You've invested a lot in your property—showcasing its beauty at night is just another aspect you should definitely consider. Outdoor lighting systems provide many benefits, including increased safety, better visibility, and a way to show off your home, office, or landscaping.
It's truly amazing what a few strategically placed bulbs can do. From greater safety to a cozier yard, here's how landscape lighting can benefit your home or office.
Increased Home Value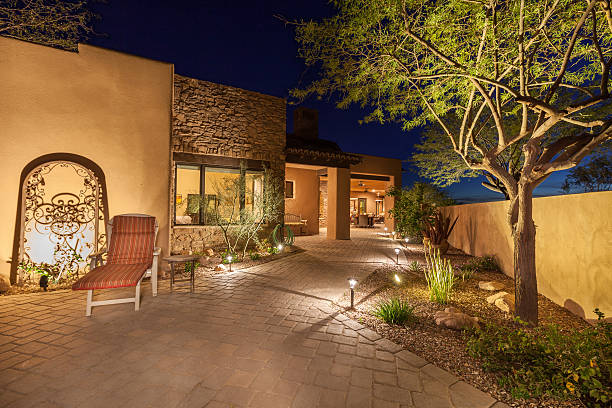 Whether you're in your forever home or have been fiddling around with the idea of selling, outdoor lighting has been reported to increase the value of a home by 20%. The Association of Home Builders recently reported that over 40% of homeowners surveyed listed outdoor lighting as "essential". While it's probably not the only deciding factor, it can certainly make a potential buyer feel invited and safe.
Environmentally Friendly
Outdoor lighting doesn't have to break the bank either! LED lighting solutions are incredibly energy efficient. They use less electricity and last longer than incandescent or CFL bulbs. With LED bulbs lasting about 25,000 hours, you'll definitely get your money's worth. AND unlike conventional incandescent bulbs, LEDs don't emit infrared light, therefore they do not attract bugs -- win, win!
Improved Safety and Security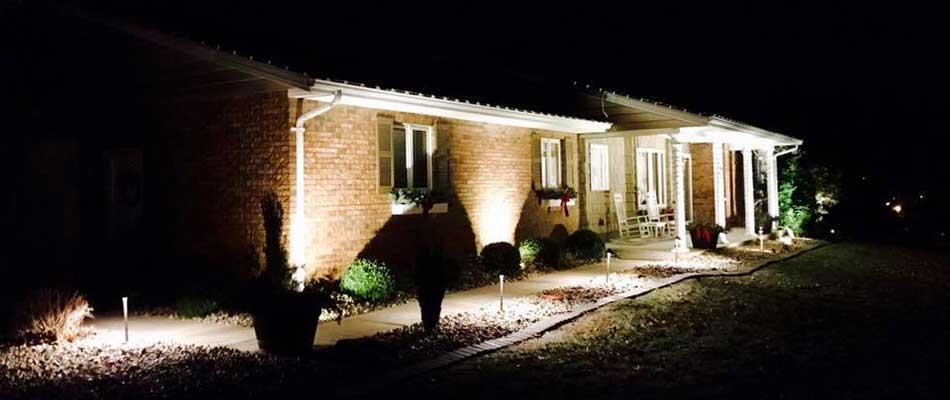 When it gets dark outside, your property needs extra lighting in order to mitigate the risk of people tripping and/or falling and getting injured in the process. This means you need lighting on walkways, driveways, parking lots, and other hardscaped areas. By adding adequate lighting, you may also be able to lower your property insurance rates. Insurance companies take into consideration whether or not you have a home security system and outdoor lighting as a part of your premium rate.
Another added benefit.....outdoor lighting systems illuminate dark areas where burglars could potentially be found lurking. Don't take chances with your family, ask for motion-sensor outdoor lights to be installed. These kind of outdoor lights will deter any criminal from attempting to break into your home or office.
Functionality and Curb Appeal
When darkness falls, so does the ability to see well. By adding outdoor lighting to your property, outdoor living spaces can still be used for family cookouts, business functions, and more. An outdoor lighting system can also increase your property's curb appeal as it shows off your architectural choices and other landscaping areas.
While those are just a few of the added benefits that outdoor lighting can offer, here's some different types to help you get on our way to deciding how to use lighting around your home and office.
---
Types of Outdoor Lighting:
There are many different outdoor lighting techniques used to illuminate your property. These techniques include:
Uplighting:

This is used to showcase a tree by positioning a light below a tree and illuminating it from the ground up.

Spotlighting:

Spotlights show off areas of your home or business and make a beautiful scene throughout your property.

Downlighting:

These lights are angled down to light up elements in your landscape, as well as your outdoor living space.
Path lighting: These lights can brighten up a pathway or walkway to both increase safety and add beauty to your property.
Landscape Pro Tip: For added value, consider adding trees throughout your landscaped areas. Trees are a great way to provide shade around your home (reducing energy costs) and with uplights, they provide excellent curb appeal at night.
---
Ready to light up your property at night?
Let Linnemann Lawn Care and Landscape figure out the best way to illuminate your residential or commercial property!
.