Deciding to install a custom patio at your property in Columbia, Waterloo, Millstadt, and nearby cities in Illinois is an exciting step to take. Custom patios are beautiful and provide a great area for entertaining guests, friends, and family. Often, they serve as the foundation for your entire outdoor living space.
When custom patios are built, they need to be constructed with durable, quality materials that will last for a long time. At Linnemann Lawn Care & Landscaping, we often use concrete pavers and flagstone. Learn more about these materials and which one may be the best fit for your property.
---
Concrete Pavers - More Design Options, Cost Effective, & Most Popular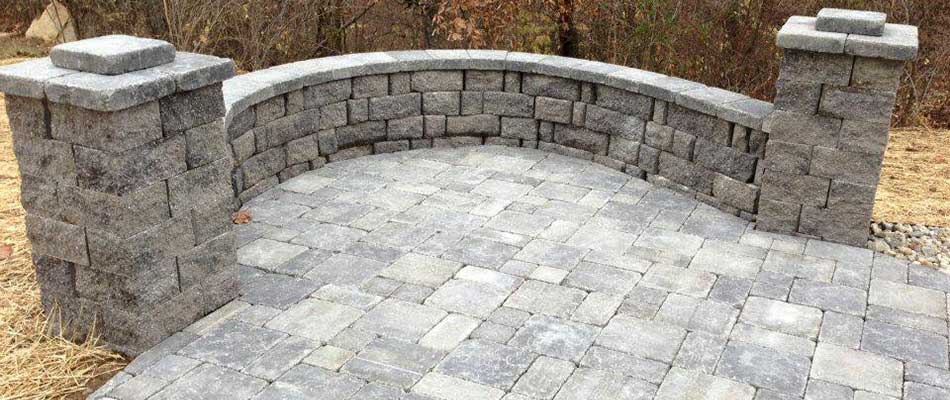 Concrete pavers come in many different colors and patterns, allowing you to choose a completely customizable patio. The pavers come directly from a supplier, already pre-cut and ready to install, meaning they require less labor to install them.
Pavers are an economical choice of material as well since they are cheaper than flagstone. Throughout the patio's lifetime, pavers will need occasional maintenance to ensure the patio is protected. Concrete pavers can last anywhere from 50-100 years if they are properly maintained.
Pavers can also shift sometimes, but it's easy to remove them and level the underlying area again before re-installing them. If a paver cracks, it's also a quick fix to remove it and put in a new one.
---
Flagstone - Premium Natural Look, No Maintenance, & Basically Lasts Forever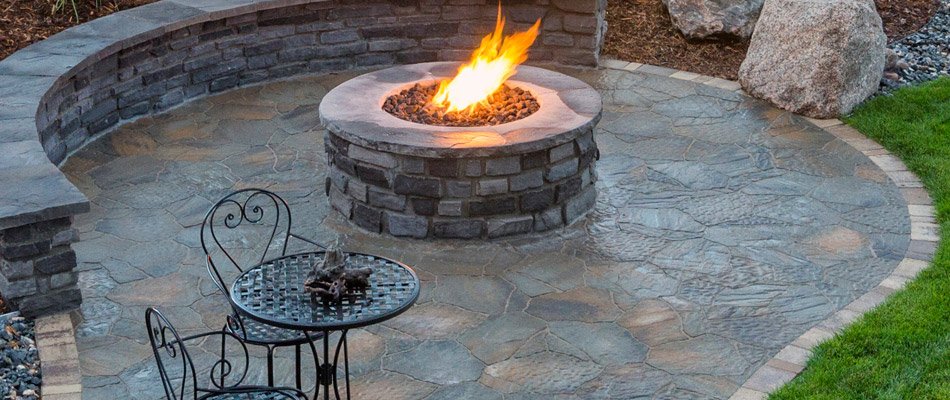 Depending on your budget for your patio installation, flagstone or natural stone is also an excellent choice. Installing flagstone is a more labor-intensive process, as it is a natural stone and does not come in pre-cut sizes. Flagstone is used to refer to different types of stone such as slate, limestone, bluestone, and sandstone. It is mined directly from a quarry. Once the stone arrives, expert craftsmen must shape it and work with it to create your new patio.
Pieces of flagstone can then be laid out using pea gravel as a filler between them or if you desire a more natural look, we can put grass in between the pieces. If the pieces are mortared together, you'll need to keep an eye on the mortar as it can start to crack in about a decade. Flagstone is also more durable overall than pavers, so it can last for centuries without breaking down.
Both concrete pavers and flagstone have advantages—our landscape designers will consult with you about which one is the best choice for your patio.
---
Whether you choose concrete pavers or flagstone, you'll be happy with your patio when you have us install it for you.
Custom patios are a great way to increase usable entertainment area on your residential or commercial property. At Linnemann Lawn Care & Landscaping, we design and install patios, whether they are made from flagstone or concrete pavers. Let us install your new patio and we guarantee you'll be happy with it. Our hardscaping teams work at homes and businesses throughout Columbia, Waterloo, Millstadt, and other nearby Illinois cities. Call us today at (618) 939-4769 to learn more or contact us via our website forms to obtain an estimate.