Outdoor drainage systems are an essential part of your lawn and landscape design. These systems provide your lawn with a way for water to leave without causing flood damage around your house (and pool). Typically, all that is required for adequate drainage is piping that runs from your gutters and down underneath your yard. BUT some yards need a more intense drainage system than others as standing puddles start to become an issue. If you're noticing a lot of water when there hasn't been very much precipitation, then a more advanced drainage system may need to be installed.
Benefits of Adding a Drainage System
1. Prevents soil erosion
When it rains, soil is displaced from your landscaping into other areas of your yard. This is referred to as "soil erosion." Without proper drainage, over time this displacement causes issues with soil depth which in turn causes damage to your landscaping.
2. Prevents standing water
Standing water in your yard not only creates dangerous and slippery surfaces, it also drowns your landscaping. Plus, it can be extremely unsightly. It also attracts the bane of everyone's existence - MOSQUITOES!
3. Prevents water damage
Improper drainage doesn't just damage your lawn landscaping, it also damages the foundation of your home. When severe storms hit, water flows through your yard at a much faster rate. Without proper drainage, this fast moving water can force its way through cracks in your foundation. This not only causes damage to the foundation, but it can ultimately cause issues in your crawl space or in your basement.
Types of Drainage Systems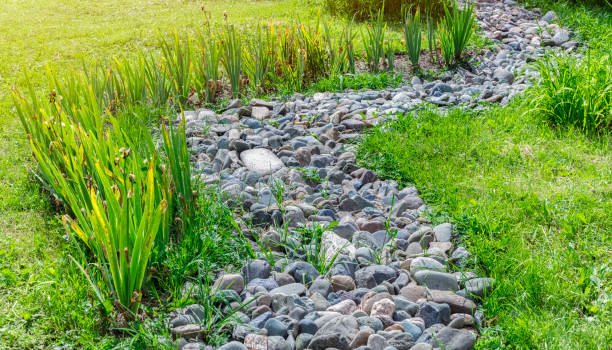 French Drains - this type of system redirects water to another part of your yard with ease.
Downspout Drains & Piping - when a downspout is too close to the home, adding in new drains can move the water farther away from the structure so it has more room to dissipate.
Dry Creek Beds - a trench filled with rocks that resembles a creek bed is a beautiful way to move water through your lawn or landscaping.
Swales (also referred to as dry creek beds) - paired with other subdrainage such as pipes and drain inlets, a swale matches the overall tone of your landscaping, whether it's more traditional or modern-looking.
Rip-Rap Rock - often installed on hillsides, these rocks can help to prevent soil erosion in areas where the yard is extremely sloped and water is moving continuously and/or rapidly.
Other Reasons to Consider a Drainage System
1. Increases the Value of the Property
Having an excellent drainage system can help increase your property's resale value by 8%. No one wants to buy a home that has water damage in the crawl space or basement. By having a good outdoor drainage system, you increase your resale value because you are showing the buyer that rain water will be able to flow away from your home and out of the yard without causing any damage or erosion.
2. Prevent Bugs and Termite Damage
Insects and termites love to live in damp environments, which means your yard can be a great place for them to live if you don't have the proper outdoor drainage system in place. With a good outdoor drainage system, you'll be able to keep them away from your home, which means you can enjoy a pest-free environment.
3. Removes Toxic Substances
When rain and/or snow falls on your lawn and landscaping, it washes away harmful chemicals released by fertilizers, pesticides, and herbicides. Without a good drainage system, that runoff will end up in your water supply. A properly installed outdoor drainage system will remove toxic substances from your yard.
Water is an essential component for your lawn and landscaping to thrive and grow. By installing a drainage system, you're improving the health of the grass, making your plants happy, and saving your foundation.
At Linnemann Lawn Care & Landscaping, we understand the value of a good drainage system and offer quality drainage and grading services to help you correct water flow issues throughout your property. If you believe you need drainage or grading support, contact our company today. We'd be happy to come out and evaluate your lawn or landscaping in order to create a game plan to address your drainage issues.
---
Ask about our Fall Yard Clean-Ups
Linnemann Lawn Care & Landscaping's Fall yard cleanup services include hauling away yard debris and leaf removal.
When leaves begin to change color and fall off the trees, it means it's time to set up your fall yard cleanup. We will haul off any accumulated yard debris that may have fallen during the spring or summer and then our leaf removal crews will clear your lawn and landscape of fallen leaves. For leaf removal, we offer three options:
Mulch your leaves so they will decompose faster

Blow leaves to the curb for the city to pick them up

Pick them up and haul the leaves away?
It's vital to the health of your lawn to make sure fallen leaves are cleared off as much as possible before the snow starts to fall, so contact us today to get on the schedule for a fall yard clean-up. Contact Linnemann Lawn Care & Landscaping today for a yard clean-up!