If you've been wanting to give your yard a makeover or add some functional improvements, then hardscapes are probably the answer to your needs. Hardscape additions can make your yard much more enjoyable, as well as, increase the property value. From walkways to retaining walls, here's a look at some hardscape solutions for your property.
Walkway or Path
There are many ways to make paths and walkways in your yard. You can use paving stones, flagstone, stepping stones or gravel. Walkways and/or paths can make it a lot easier to navigate or divide parts of your yard from one another. They also help with drainage and defining the borders of your yard. No more walking through the mud or water to get from one place to when you have walkways and/or paths installed in your yard.
Outdoor Living Space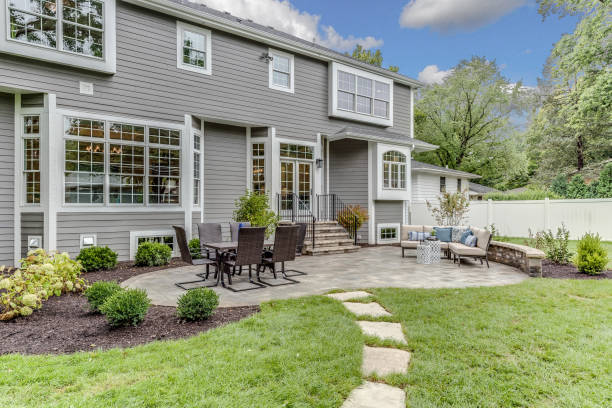 A patio is the perfect addition to any backyard. These outdoor living spaces are typically made out of paving stones, or tiles and are much easier to maintain and keep more tidy than other surfaces. Patios are always a great option if you want an area to entertain guests or spend more time with the family outside, as it offers a level of comfort and luxury.
Driveway
Driveways are one of the most essential parts of the property that's used by everyone and offers the most curb appeal. While this may not seem like an item of importance, installing a nice driveway is always a worthy investment. Whether its made of gravel or paver stone, a driveway offers you the ability to park or drive into your garage without driving through (or parking in) the mud.
Retaining Wall
If you're struggling with drainage issues or having trouble with some plants growing in your yard, then you may be in need of a retaining wall. Retaining walls can be made of stone, dirt, or wood products. Quality retaining walls make every space and every path in your yard easier to use and more clearly defined. Simply put, they create level spaces and retain soil. They also add dimension and help to keep pathways and walkways clear of debris.
Once you understand what you need for your yard (or want), it's important to understand what materials you should use. This is where hiring the right professional comes into play. When you hire a landscape professional, they will know the materials to use for your area. Why's that important? Because you don't just want landscaping, you want hardscaping that's made out of materials that will last.
Types of Landscaping Materials
You need to use the right, top-quality materials for your hardscape projects or you will not be happy with the end result. Here are some examples of materials to use per project:
Walkway or path - brick pavers. These stones come in many colors, shapes, and sizes, which makes it possible to match nearly any existing structures or walkways in your yard.
Retaining wall - stone. Durable Windsor or Hampton stones guarantees a beautiful wall that will stand the test of time. These stones are 4-6 inches in size, depending on the needs of the project. Note: Make sure that the drainage in your yard has been adjusted correctly to prevent erosion or other damage that might undermine the retaining wall.
Patio - brick pavers. Patio designs need to have a visual appeal and complement any existing outdoor living space - making that a tall order for concrete. Brick however, offers a world of possibility with colors ranging from red to cream to pink and brown. When it comes to visual appeal, a brick color of any type stands out.
Now that you know the types of materials to look for when contracting out the building of your landscape or hardscape designs, why not add something to the space that offers enjoyment for everyone? Firepits and/or fireplaces are the one feature that up levels the entertainment value of your property.
Benefits of Adding a Firepit or Fireplace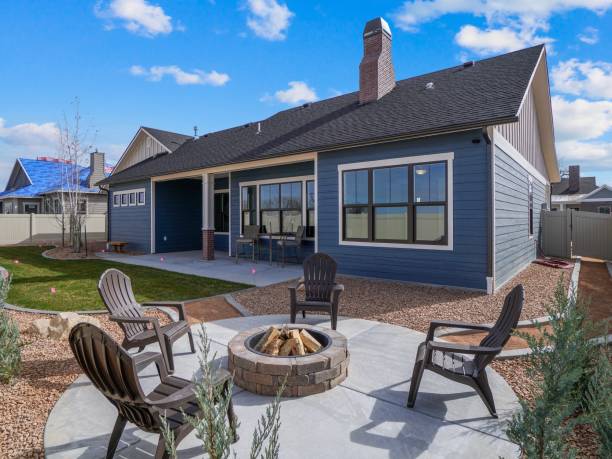 An outdoor living space is an extension of the home. By adding a heating element to it such as a firepit or fireplace, you're not only increasing entertainment value but property value. Firepits and/or fireplaces add ambiance to any outdoor space while also providing a safe and contained area to light an outdoor fire. They're also a great way to savor spending time outside and create a space for late-night gatherings.
Firepits and fireplaces are some of the most beneficial hardscapes to install on any property because they can be:
Designed to match your existing landscaping and hardscaping elements.
A focal point for your overall landscape.
Constructed using a variety of building materials.
A natural insect repellent.
Outdoor fireplaces and firepits also have a great return on investment. According to a recent survey done by the National Association of Realtors, homeowners can end up getting back about 80% of their initial installation costs when reselling their home.
At Linnemann Lawn Care & Landscaping, we have more than 20 years' experience working with hardscapes in Monroe, Randolph and St. Clair Counties of Illinois. From custom patios to walkways to steps and firepits, we know exactly what materials will work best where and how to efficiently install them so that you can begin enjoying your new outdoor living space as soon as possible. Give us a call today at (618) 939-4769 to discuss what you'd like to see in your yard so we can begin making a plan!