At times, the slope of the land around your home can create some concerns with water drainage. Pooling water can not only be a safety hazard, during warm months it can create a breeding ground for insects and ruin your lawn or other landscaping features. Over time, it can erode the underlying ground and create divots and potholes that can damage vehicles.
Keep reading to learn more about our most recent outdoor drainage and grading project and see why using Linneman's hardscaping services will add safety and value to your home.
---
Determining the Goals for the Drainage and Grading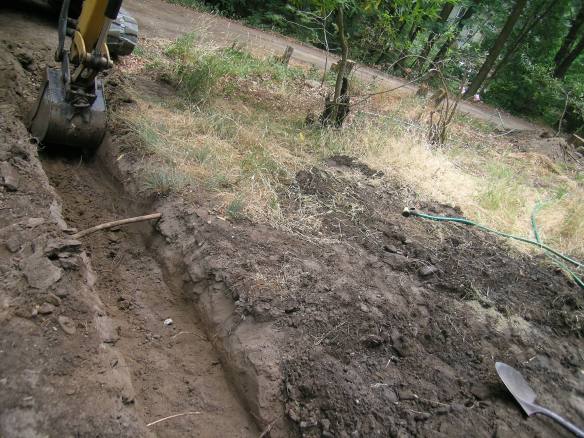 Judy M. was having a huge issue with water draining properly. Judy called us to take care of surface water pooling in her circle driveway that was creating a mess of her grassy area and was a pain to drive through.
We started by coming out to Judy's property to take a look at the damage already created by the pooling water. This allowed us to understand the scope of work and to determine what measures should be taken to create proper drainage. After measuring out the slope of the land, the crew determined that creating a swale through grading would resolve the drainage problem and keep the driveway clear of pooling water from weather run-off. A swale is a method of cutting into the land in a way that allows for run-off like a ditch but in a much more broad and shallow curve. This allows the area to be covered with grass or other vegetation that is more eye-appealing while still doing the job of preventing pooling surface water.
We created a full proposal for Judy that outlined the work that we would be doing in order to resolve her drainage issues and met with her to ensure she understood the work we would be doing and how it would improve the drainage concerns through grading the land.
---
Beginning the Grading Process.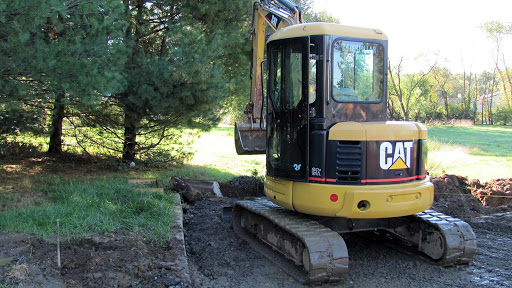 Once the crew determined the right slope needed to pull water away from the driveway, they used heavy equipment to grade the soil cutting in the swale, and removing just the right amount from the areas that were pooling creating a pathway for it to run off and disperse into better areas of the yard for drainage.
We started by raising the driveway by adding additional gravel and rock. The inside of the driveway circle was built up with soil mixed with seed and straw that would grow once after the project was complete adding an additional lawn area. Next, the crew got to work cutting in the swale around the circle driveway at the correct slope for the surface water to flow downhill and away from the drive.
---
Finishing the Project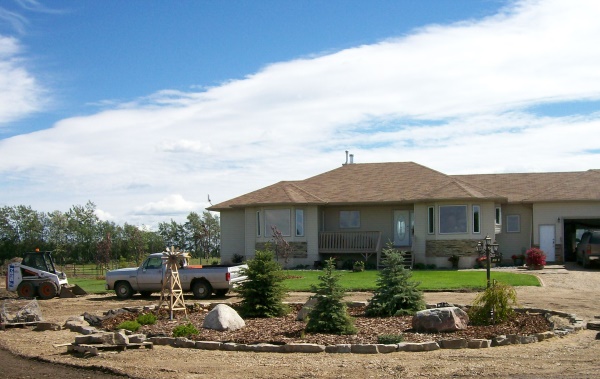 Judy's project was completed. She now had a dry driveway with the proper slope to avoid surface water pooling as well as a newly seeded area that would provide space for lawn and flower beds around the drive. The crew completed a full site clean-up, and Judy is very happy with her dry driveway!
---
Why Proper Drainage is Extremely Important
Drainage issues are not only a source of irritation but also can be hazardous. Besides creating an ideal environment for mosquitos and other insects, pooling water can damage vehicles and erode the soil causing the problem to worsen over time. Correcting drainage concerns usually requires the ability to determine proper slope and involves the use of heavy equipment. At Linnemann Landscaping we can take care of it for you and get you back on dry land.
Having Proper Grading and Drainage is a Great Way to Add Value to Your Home.
Improves curb appeal of the home
Prevents unwanted insect growth
Removes safety hazards caused by pooling water
---
Need help with a drainage or grading concern? Call today for an estimate!