At Linnemann Lawn Care & Landscaping, our crews are passionate about installing quality planting beds that look beautiful and also complement our customer's homes.
Our landscape team just had the chance to redo some old landscape beds for a home in Waterloo, IL and create a cohesive look and feel that wrapped around the entire home. Check out some before and after photos of this lovely transformation!
---
We removed the existing landscape plants and grass around the home.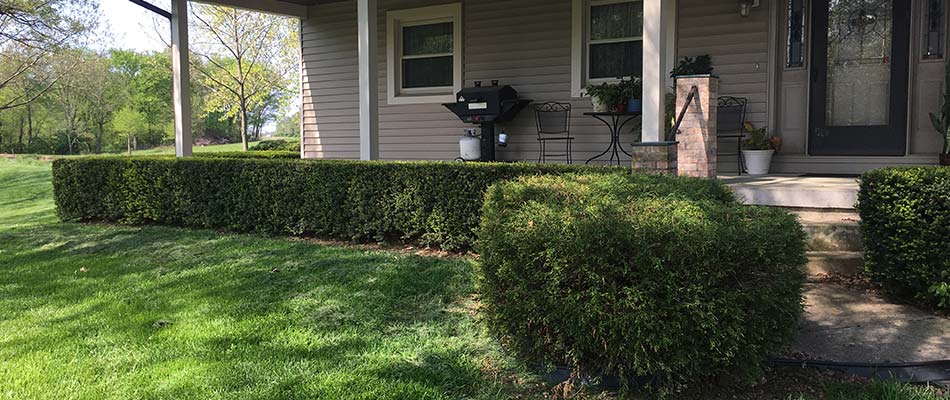 Before we could begin installing the new landscape materials, we first had to remove the hedges and bushes at the front of the house and the grass around the back deck area. This gave us a clean slate to prepare and begin installing the new landscape plants.
While the hedges were in decent condition and had been trimmed to keep them shaped, the homeowners wanted a landscape that made the front of the house feel more open. The hedges were a little tall and encroaching on the porch and front walkway.
---
The new landscape beds use river rock and paver curbing.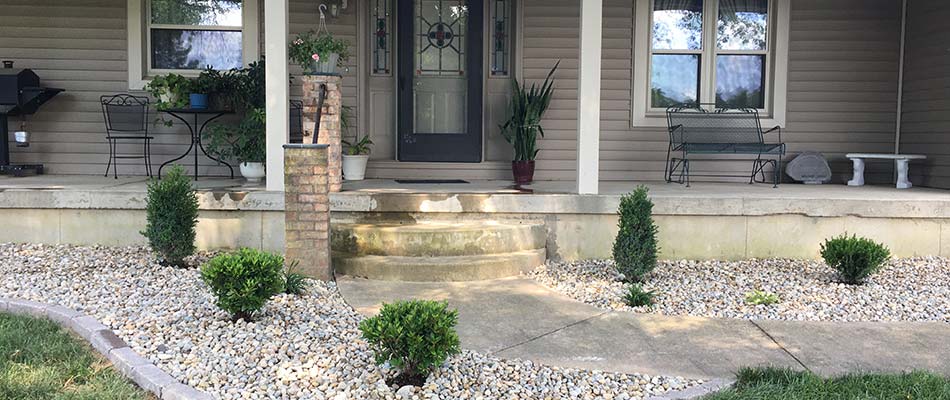 After everything was removed, we began putting in the new landscape beds. We used small shrubs to start, so that their size could be easily controlled as they begin to grow and leave the landscaping feeling open.
Around the deck, we created a whole new landscape bed to mirror the same style as the front of the house. For a permanent bed edge, we installed paver curbing. This way, they will not have to worry about re-edging their landscape beds each year. The curbing also looks great around the home and provides a nice visual effect for their new landscape.
For the ground cover, they chose a white river rock that matches well with the tan of their exterior walls. River rock and ground cover in general has many benefits, such as:
It helps to prevent weed growth. When you have a sufficient layer of ground cover, it can block weeds from accessing light, air, water, and other nutrients they need to grow.
It protects against soil erosion. Without ground cover, the soil in landscape beds can easily wash away in rainstorms or snowmelt. That layer keeps the soil in place, which is important when you have fertilized it and put money into its condition.
It keeps the plants and soil insulated. In our area of the country, temperatures can often fluctuate as winter turns to spring, which can harm the plants. Ground cover keeps them insulated from this.
---
Check out some other photos from this recent project installation!
---
Need new landscape beds for your residential property? Call us for an estimate.
At Linnemann Lawn Care & Landscaping, we design and install landscaping for residential and commercial properties throughout Waterloo, Columbia, Millstadt, and the surrounding cities in Illinois. If you are needing new landscape beds, we can help. With decades of experience, we create some of the area's most beautiful planting beds. Call us today at (618) 939-4769 to get an estimate on your new landscape installation or a renovation of your existing landscape.