At Linnemann Lawn Care & Landscaping, we have more than 25 years of experience installing and renovating landscaping throughout the areas of Columbia, Waterloo, Millstadt, and nearby Illinois areas. When a homeowner in Waterloo reached out to us for a renovation of their existing landscaping, we were happy to assist them with that!
Learn more about this recent landscape renovation and how we helped them improve their overall curb appeal and aesthetics.
---
Existing Landscape Beds Were Overgrown & Needed a Lot of Work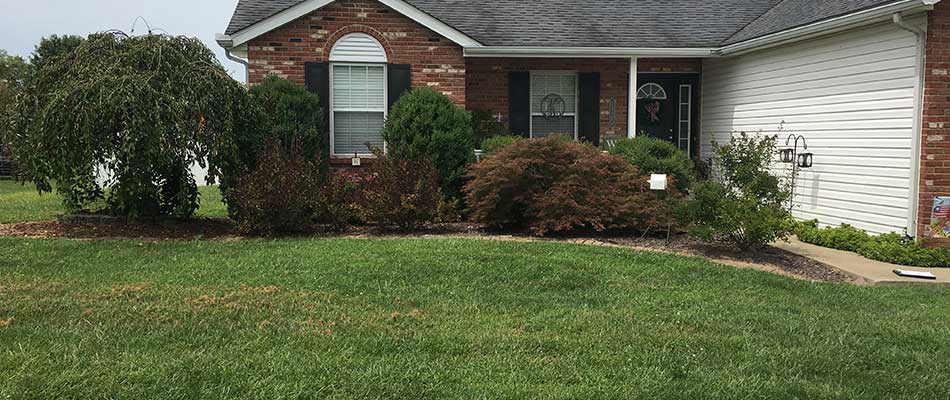 The existing landscape beds needed a lot of work, as many of the plants had become overgrown due to a lack of routine trimming and plant maintenance. Some of the plants had even started to overtake the sidewalk, growing onto the surface about halfway over. Other plants were so tall, they were completely blocking the front porch from view.
Since the plants had been neglected for a while, we decided the best choice for this landscape renovation was to completely start over with all new plant life that would be healthy so the homeowner could have a fresh start. We ripped out all the existing landscape beds, including the old concrete pavers that were used to mark the border of the beds.
---
New Landscaping Plans Completely Changed the Look & Feel of this Waterloo Yard
Our proposed design involved planting smaller plants that were more spaced out, so as they begin to grow and mature, they will have plenty of room to expand without growing into each other. The shrubs and ornamental grasses we chose will eventually grow into larger plants, but it made sense to start off with smaller plants so the homeowner wouldn't have to worry as much about maintaining the landscaping for the time being. Plants that we used in this landscape renovation to change the look and feel of their Waterloo yard included:
Dwarf Alberta Spruce
Supreme Pink Flower Carpet Roses
Miss Molly Buddleia AKA Butterfly Bush
Green Velvet Boxwoods
Midnight Wine Weigela
Stella D'Oro Daylily
Green Liriope
Creeping Phlox
We try to always use plants that are native to our hardiness zone so that our landscapes will be eco-friendly and require less maintenance.
---
Ground Cover Keeps Landscape Plants & Soil Insulated & Protected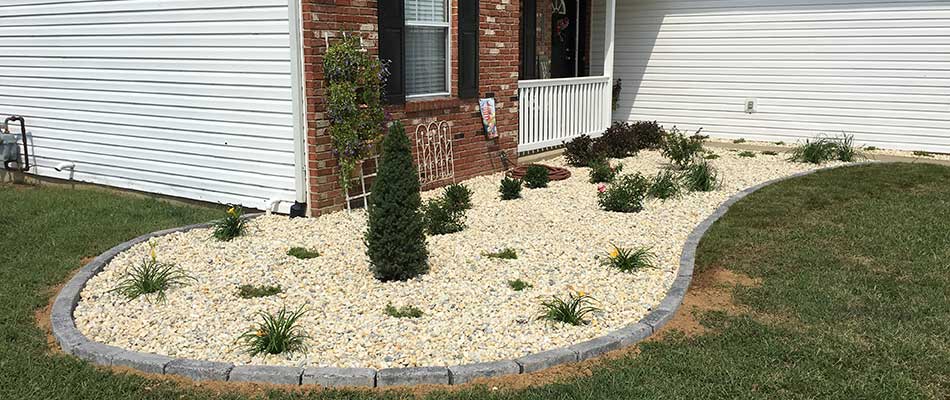 After planting, we also installed some rock ground cover using Arkansas River Pebble White rock. The ground cover provides many benefits to these renovated landscape beds, besides providing a finished and polished look. Benefits of properly installed ground cover include:
Soil insulation: Ground cover keeps soil insulated so that it's protected from extreme temperature changes. This is especially important when we have our first frost of the season or when we transition from winter to spring, as temperatures tend to fluctuate.
Erosion prevention: An important step in landscaping is to keep the soil of the beds full of nutrients so plants can grow and be healthy. If that soil is washed away in rain or snowmelt, then money is lost. Ground cover helps protect that investment.
Moisture retention: Another benefit of ground cover is moisture retention. Ground cover keeps moisture in the landscaping soil and prevents it from evaporating in the sunlight.
---
Check out some more photos from this recent landscape renovation here!
---
If you're in need of a landscaping bed renovation, then give us a call today!
We provide landscape renovations and installations across the areas of Columbia, Waterloo, Millstadt, and surrounding Illinois communities. If your residential or commercial property is in need of a landscape bed renovation, give us a call today at (618) 939-4769 to set up an estimate on landscaping services!