In the area of Columbia, IL, we often see clients having issues with their drainage around their homes and foundations. The team at Linnemann Lawn Care & Landscaping can help fix these problems with a variety of drainage solutions.
One client reached out to us to ask for help with their property, as they were continuously experiencing problems with water seeping into their home. Learn more here about the measures we took to help adjust the drainage around their home, giving them peace of mind and helping them avoid further issues from water damage.
---
Water was getting trapped near the foundation of the home during every storm.
When we arrived at this Columbia property, we were immediately able to see that the client had issues with their downspouts, even attempting to use duct tape to help with the situation. They also had to continually run their sump pump in their basement during every storm. After we fully investigated, we found that their black corrugated downspout pipe was backing up, trapping water near the foundation of the home.
As the water stayed trapped, it was eroding away dirt at the side of the home and was soaking back into the ground beside the foundation.
---
Leaving water damage to sit can lead to costly repairs and other problems.
If this homeowner hadn't contacted us and left this water damage to sit, it could have led to some very costly repairs, along with other problems. Water damage can affect a foundation and weaken it. It can also reach into the house itself and already was in this case since the internal sump pump was running.
If moisture is allowed to remain inside a home, it can form an ideal habitat for mold. Mold can cause severe health risks, especially in children and the elderly. Risks of mold exposure include:
Throat irritation
Coughing
Wheezing
Skin irritation
Itchy eyes
Respiratory complications
Avoid mold problems by employing comprehensive drainage solutions around your property in Columbia, IL.
---
We adjusted water flow by separating the pipes and adding a small retaining wall.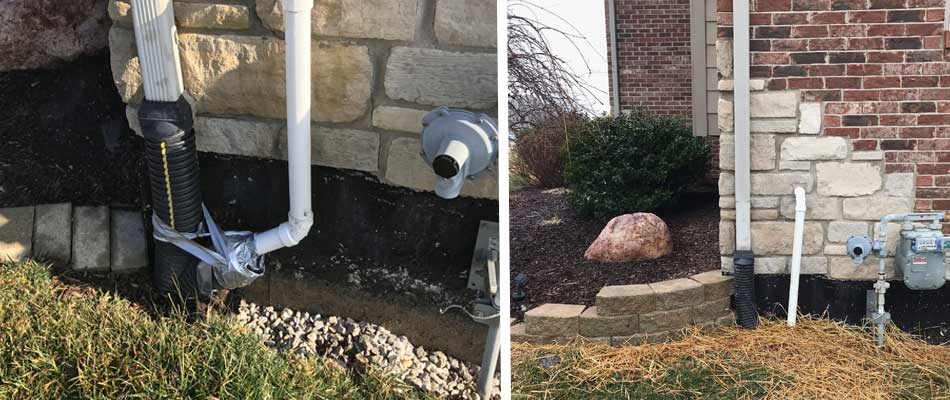 To adjust the water flow away from the home, our drainage company separated the pipes from the black downspout so that they would be flowing separately. Both were also rerouted to drain farther away from the home and foundation. We ultimately discovered that their landscaping was not helping with the drainage issue, so to separate it from the drainage area, we added a small functional retaining wall. This retaining wall will keep the landscaping in place, allowing the downspout and pipes to drain more efficiently.
---
Are you experiencing issues with drainage around your property? Call our drainage providers today.
At Linnemann Lawn Care & Landscaping, we offer ways to help with drainage around your residential or commercial property. We can install functional retaining walls, find an option to reroute downspouts, and more. If you're experiencing issues with drainage at your property in Columbia, Waterloo, Millstadt, and nearby areas of Illinois, our drainage providers can help. Give us a call today at (618) 939-4769 to set up a consultation!