Here at Linnemann Lawn Care and Landscape, we'd like to take this time to thank all of you who follow us and use us for your lawn care and landscape needs. You are the heart of the business and why we continue to be successful!
As we near the holiday season, here's a few things you can use, plus a few safety tips to see you through the winter months....
Gift Certificates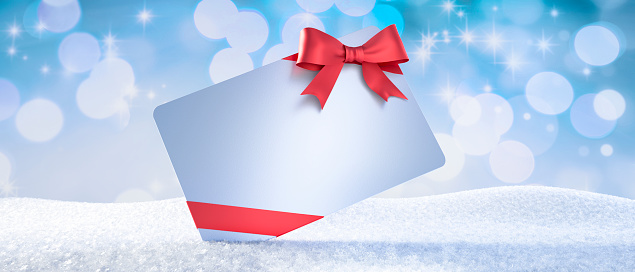 Give the gift of lawn care this holiday season! When you're not sure what to get your husband, brother, brother-in-law, father, father-in-law, and/or #allthemeninyourlife, give them the gift that will keep on giving during the 2022 lawn care season. Purchase a Linnemann Lawn Care and Landscape Gift Certificate! Simply call us at (618) 939-4769 and purchase a gift certificate that they can use on any lawn care or landscape service.
Holiday Recipe
When the holiday's arrive, so does the family....which is why you need a recipe for the masses! Give them something their sweet tooth is sure to love - Pumpkin Dip w/Ginger Snaps.
Ingredients:
1 can of Libby's Pumpkin
1 box of Powdered Sugar
2 8oz packages of Cream Cheese
1 tsp of Pumpkin Spice Seasoning
Directions:
Mix the cream cheese, pumpkin and spices until well mixed. Then slowly add in the powered sugar. While you can do all of this by hand, a mixer is recommended.
Refrigerate until completely chilled and then serve with Ginger Snaps.
Side note: you can use graham crackers or animal crackers, but the spice in the ginger snap really combines the best with the dip.
Safety Tips for Winter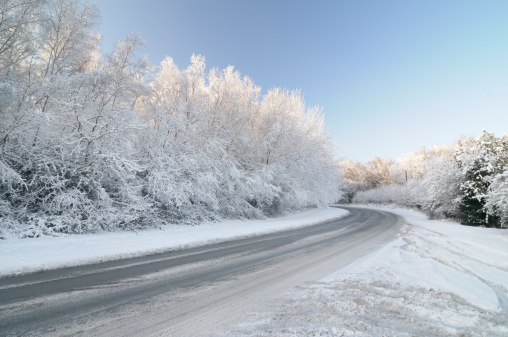 Although winter comes as no surprise, is one ever truly prepared for it? Winter storms and cold temperatures can be dangerous. Stay safe and healthy by planning ahead and taking a few precautionary measures.
Buy Rock Salt
Rock salt is the standard material used for spreading onto driveways, walkways, parking lots, roads, etc. to prevent snow from sticking. When you put this material down before a big storm, you'll find it easier to get in and out of your home without accidents. Just remember - use a spreader or wear gloves (if doing it by hand). You don't want to get this material on you when putting it down. It is a chemical even though it calls itself salt!
Pro Tip: You can also use cat litter or sand on those trouble some icy patches. So if you find it hard to get rid of ice on your walkway or driveway, put down some cat litter or sand down. This will decrease your chances of falling.
Prepare for Power Outages
No one likes to be without power, but in the winter, it's always a possibility.
Stock up on food that does not need refrigeration or heating (or that can be easily heated outside on a grill or firepit).
Make sure you have plenty of bottled water on hand.
Buy extra propane, gas or charcoal for the grill.
Chop (or buy) extra firewood and keep it stored in a dry place.
Prepare an emergency kit with medical supplies, batteries and/or medicine that could be needed.
Charge all of your electronic devices. You may need that cell phone in an emergency, so make sure it's fully charged at all times.
Make Time for Travel
"Winter driving is a tricky and dangerous business. Better roads, better cars and better tires won't take the place of careful driving practices. To keep your experience with winter driving from becoming a crash-course, here are a few driving tips from the Connecticut Department of Transportation"
If you can walk instead of drive, here's a few safety tips from Iowa State University - click here.
Know your area's risk for winter storms and plan as best you can to face the winter months with ease.
---
Important Update for the 2022 Lawn Care and Landscape Season:
To provide full transparency as we move from the 2021 growing season into the 2022 year, we'd like to bring to your attention some information that we received from a number of our fertilizer and weed control vendors. Our costs of fertilizers have jumped up significantly for the next season by as much as 30% or more. Grass seed is also doubling in price as well. Last year we could buy grass seed for $65 per bag and now we are paying over $110 per bag.
While we do our best to take advantage of EOP's (Early Order Programs and pre-paying for our materials) and ordering in large quantities to save you money, the increase in cost of fertilizer and grass seed has skyrocketed in the last year and we'd like to simply pass this information along to you so hopefully there are no surprises going into the new year. See below excerpt from one of our suppliers in the cost increase of raw fertilizer by the ton.
The below image is the cost of the raw material of fertilizer (Nitrogen, Phosphate and Potash) by the ton. Pricing does not include the manufacturing of said fertilizer, bagging, shipping or trucking. Other items that have affected the cost of fertilizer, grass seed and other general landscape materials is fuel pricing, shipping shortages, labor and the delays of imports.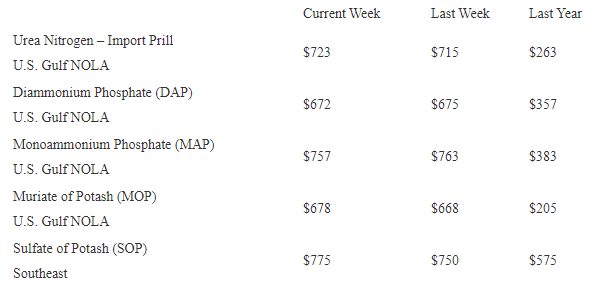 Please rest assured that we are doing everything within our power to keep our prices low, including taking advantage of early ordering, routing our crews efficiently, ordering in large quantities for discounts, etc. If you have any questions, please don't hesitate to reach out.
We look forward to working with you again in the 2022 season!