Patios are functional and easy-to-care-for outdoor spaces. When the weather gets nice here in Columbia, Illinois, many homeowners find their patio practically becomes a second living room. However, some standard patio materials, such as poured concrete, can look drab and impersonal. Others, like pea gravel, may shift and make patio furniture lose footing.
Our team recommends these three patio materials: concrete pavers, brick pavers, and flagstone. Each one of those has its distinct characteristics and perks. Concrete pavers are extremely durable, brick pavers add a charming touch to outdoor living areas, and flagstone brings a naturally-beautiful element to landscapes.
---
Concrete Pavers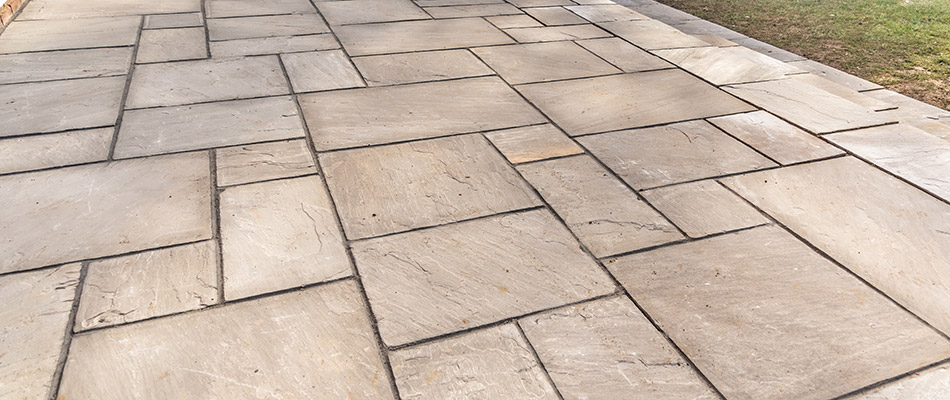 Concrete pavers are stone-like manufactured slabs that come in various shapes and colors and pair well with homes of almost any style. They are extremely versatile and can look like bricks or cobblestones but are a bit more expensive than poured or stamped concrete. Even so, they offer several undeniable advantages:
High durability—a concrete paver patio can last up to 100 years!
Replacement convenience: If a single paver cracks, it's possible to replace it individually
Better drainage than poured concrete.
Concrete pavers come in two main types: interlocking and architectural slab. Although both types contain gravel, sand, cement, and water, they differ in texture and durability.
Interlocking pavers are extremely strong, thick, and suitable for driveways as well as patios and walkways. Although this is a practical, cost-effective solution, interlocking pavers can look a little impersonal.
Architectural slab pavers are thinner and not suitable for driveways. However, the wet-concrete molding of architectural slabs enables manufacturers to get creative and make them resemble brick or natural stone.
---
Brick Pavers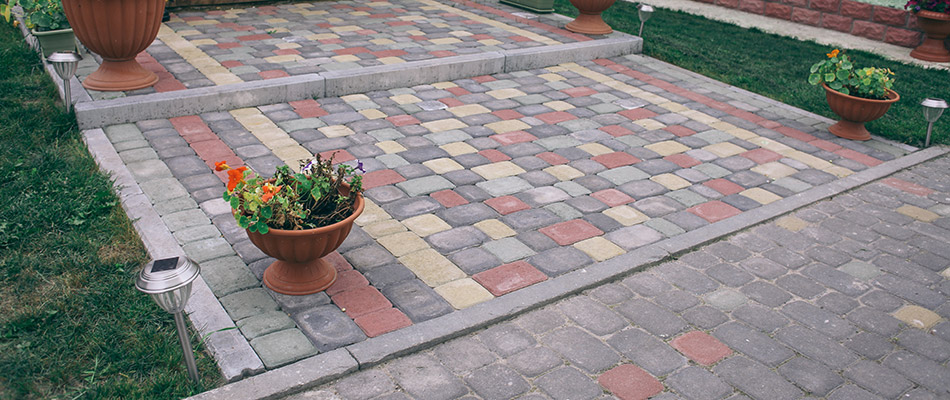 A brick patio is a perfect addition to classic colonial-style and ranch homes. Brick doesn't offer a variety of colors, but it's possible to arrange it in different patterns for a more interesting look. Brick patios are easy to install, and depending on the surface, mortar isn't always necessary.
In addition to its attractive appearance, brick has several other pros.
Good, uniform drainage thanks to the porous texture of brick
Non-fading material
Excellent durability
Easy replacement of individual cracked or broken pavers
Popular laying patterns for brick patios include herringbone, pinwheel, basketweave, grid, and running bond.
---
Flagstone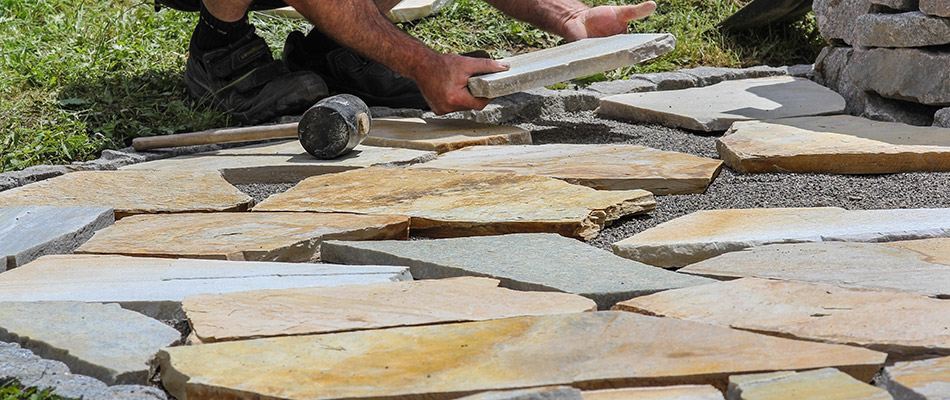 Flagstone gives patios, walkways, and front entries a classic, romantic look. The natural stone used for flagstones includes sandstone, bluestone, limestone, and quartzite.
Although this option is more expensive than concrete or brick pavers, many people still choose flagstone for its superior qualities, such as:
Unique beauty—no two pieces of natural stone are exactly the same
A wide array of colors including gray, bluish, buff, tan, brown, and variegated
A slightly rough, naturally anti-slip surface
High resistance to erosion and cracking
Easy maintenance: Flagstones don't require much upkeep apart from sweeping and weeding. If flagstones become stained, a bleach and water solution is usually enough to solve the problem.
Flagstone is manually quarried from large slabs of stone, giving each laying stone a different shape and size. Therefore, flagstone is normally laid to create a unique, random pattern that gives the patios character. Greenery, small stones, or mortar can be used to fill in the gaps between stones.
---
Linnemann Lawn Care & Landscaping:
Beautify your property with elegant and durable patios, walkways, and stairways to increase your property's value and expand your outdoor living space. Whether you prefer smooth modern concrete, a classic brick pattern, or romantic, regal-looking flagstones, we offer a winning choice for homes of all styles.
We've installed quality patios and walkways in Columbia, IL since 1994. Call us today at (618) 939-4769 to schedule a patio installation for your home in Columbia, Waterloo, Millstadt, IL, or a neighboring community.